This is the Spider Web coil Form that I used for my crystal radio. Both the antenna tuner and detector coils are wound using this form design. I used 1/8" thick white High Density Polyethylene (HDPE) sheet. I bought this material at TAP Plastics in Portland, Oregon. They have a scrap/surplus barrel that any plastic in it sells for $1.00/pound. It is the kind of plastic that is used on cutting boards in the kitchen. It has a relative dielectric constant of 2.26 @ 1 MHz. See the table with Dielectric of Various Materials. If you could find some Polypropylene, that would be good as it has a little better dielectric constant than the Polyethylene.
I used some spray adhesive and attached a 1X paper print to the plastic and cut it out using a scroll saw. When I am finished with the form I clean it well using Acetone.
If you are having problems with the print coming out at a different scale try printing the pdf file from within Adobe Acrobat. Also you need to print it on a letter size (8 1/2" X 11") paper. If you do this it "should" come out at 1X (actual size). You might measure it just to be sure.
I used PTC Pro/ENGINEER® software to design this coil form and converted it to .pdf in Ghostview. If you have the need for any other type of files; .ps, .igs, .prt, .dxf, or ? just let me know and I will see what I can do to help.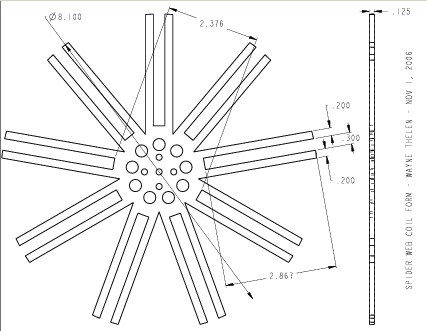 Return to "My Crystal Set Page"